5 of the Best Waterparks in Europe
You don't necessarily need to have children to enjoy a trip to a great water park as they are a terrific place to visit on holiday whether you are single, a couple or a family. Although you will find some of the best water parks in the USA, there are certainly some gems to be found closer to home. Therefore, we have decided to share with you 5 of the best waterparks in Europe.
1. Siam Park, Tenerife, Spain
If you fancy a holiday to the sunny Island of Tenerife, then over in the Adeje region you will find the fabulous water park called Siam Park. This waterpark is Thai-themed and one of its many features is one of the world's longest lazy rivers.
However, the Tower of Power is what you could call its landmark attraction. this is a water slide that has an 85-foot drop which incorporates you passing through a tunnel inside a tank full of sharks! Also at Siam Park, you will find a ride called the Dragon which has a vertical drop and a ride called the Volcano which is a vortex-style water slide.
Add to this the fun that comes with a huge wave pool that can create waves nine-foot high! Or, you can just sunbathe on the sandy beach that surrounds the pool.
2. Caribe Aquatic Park, Port Aventura, Costa Dorada, Spain
Not only does North East Costa Dorada offer an azure blue coastline but you will also find a taste of the Caribbean with the Caribe Aquatic Water Park. As you can tell from its name, this water park has a distinct Caribbean theme and this includes both rides and food.
So, how brave are you? If you think you are up to it you should give the El Tifon Typhoon Ride a try or maybe the Mambo Limbo. You also have neighbouring the park the Port Aventura Them Park, so you could stay close by if you wish as there are 4 hotels on site.
3. Tropical Islands, Brandenburg, Germany
Here we have an indoor water park which is huge, to say the least as it's the 3rd largest building in the world. This disused airplane hanger in the heart of Bavaria can hold up to 8,000 people and is just 60km from Berlin.
Amongst the Tropical Island theme, you will find beaches, a rain forest, tropical pools and of course water slides. If you fancy traveling at speeds of up to 70kmh then have a go on the Turbo Slide.
4. Alpamare, near Zurich, Switzerland
Close to the shores of Lake Zurich, Alpamare is actually the largest covered water park, despite Tropical Islands as discussed above. The main difference is just that this water park is not housed inside a building.
Here you have both indoor and outdoor swimming available with one outdoor pool even having underwater music. This is all as well as the expected selection of water slides including a lazy river ride that covers 295 feet.
5. Aquariaz, French Alps, France
This is one of the newest water parks out of this list and you can add to that the fact it is the highest. Although not as big as some of the other water parks mentioned in this list, there is still a good selection of rides.
Part of the Avoriaz Resort, the Aquariaz is owned by Pierre & Vacances and includes accommodation on site. This water park is open throughout the year meaning it makes a great destination in winter as well as summer.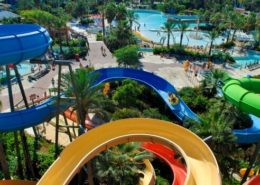 http://www.theholidaytravelshop.co.uk/wp-content/uploads/2017/03/Caribe-Aquatic-Park-the-holiday-travel-shop-1.jpg
350
620
Paulbc0
http://www.theholidaytravelshop.co.uk/wp-content/uploads/2017/11/new-logo-the-holiday-travel-shop-171x60.png
Paulbc0
2017-03-05 16:18:49
2017-11-03 19:28:13
5 of the Best Waterparks in Europe
http://www.theholidaytravelshop.co.uk/wp-content/uploads/2017/01/funny-complaints.jpg
367
521
Paulbc0
http://www.theholidaytravelshop.co.uk/wp-content/uploads/2017/11/new-logo-the-holiday-travel-shop-171x60.png
Paulbc0
2017-01-10 10:15:43
2018-03-01 10:34:18
Ten Funny Holiday Complaints From The Past Year